At this time of the year, Zontians worldwide take action on the initiative "Zonta Says NO to Violence Against Women."  Launched nine years ago, the campaign involves 16 days of activism, which this year began on November 25, with strategies to reduce gender-based violence in all its forms.
A pandemic is a particularly vulnerable time for women and girls, and the ability to provide help has also become more challenging.  However, violence against women continues to be a global issue, and Zontians in dozens of countries have come up with ideas that can work during COVID-19 restrictions.
Through its Service & Advocacy team, the Zonta Club of Sanibel-Captiva is placing shells painted orange—the theme color of the campaign—in public places on Sanibel, labeled with the number for the national domestic violence hotline, 1-800-799-SAFE (7233).  You may find one in a parking lot, on a bench at a shopping center, on the causeway islands or even on the beach.  And if you know someone who might need help, pick up the shell and pass it on.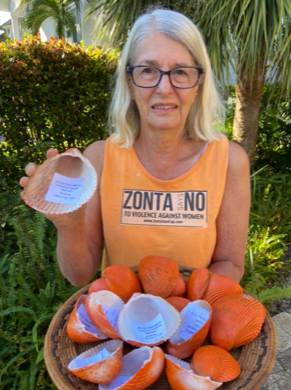 According to Kate Sergeant, Zonta's Advocacy chair, the shells will continue to be "planted" until supplies are depleted.
Other ideas from Zonta clubs around the world include a billboard in Birmingham, AL, with a domestic violence phone number to call; in Rotterdam, along a main road, flags were installed bearing the "Zonta Says NO" message; and in Geelong, Australia, signage to balance the "Zonta Says NO" message with some that state "Zonta Says Yes to Gender Equality."
The Zonta Club of Sanibel-Captiva is a service organization of professionals working together to provide hands-on assistance, advocacy and funds to empower women and girls on the islands, in Lee County and around the world through Zonta International.  For information, visit www.ZontaSanCap.com; follow Zonta Sanibel-Captiva on Facebook, and "like" Zonta Sanibel-Captiva (@zontasancap) on Instagram.