Calling all who love to shop!  The Zonta Club of Sanibel-Captiva, renowned for its support of organizations that champion women and girls, announces its fall fundraiser:  "Shop Zonta's Peek."  The online auction, which runs the entire month of October, draws inspiration from Zonta's former home tour, "Peek at the Unique."
There's something for everyone to "Peek" at:  Bid on fabulous places to stay, from Sanibel to Asheville; consider land and sea excursions; enjoy unique tours of Sanibel staples (CROW, the Shell Museum, Historical Village), grab show tickets, dinners, gifts and more!  How about a private party at Tino's Southwest Grill? All you have to do is bid on your chosen item—and keep bidding to win!
Think Christmas gifts!  The complete catalog goes online beginning October 1 and runs through October 31: go to 32auctions.com/ZontaPEEK21.  In all, the auction will feature over 70 experiences and creations, with values ranging from a few dollars to thousands, all donated by local businesses, individuals and artists.  Bid and pay for your purchases online and pick up the items, safely in person, at a location to be announced.
All proceeds will go out in grants to organizations whose mission of empowerment mirrors Zonta's own.  Earlier this year, Zonta's foundation distributed $82,500 to area non-profits.  Your participation will add to the fun—and help countless women in our area.
Even if you don't win, consider donating some or all of your last bid to help us help others in these tough times.  Every dollar will make a difference, and allow Zonta to positively impact women and girls.  Get more information and donate at ZontaSanCap.org.  You can also donate through the auction site or send a check to: Zonta Foundation of SWFL, P.O. Box 1244, Sanibel, FL 33957
Follow Zonta Sanibel-Captiva on Facebook and "like" us (@zontsancap) on Instagram.  And have fun shopping!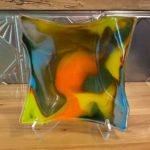 Featured photo: You could own this unique, multicolored bowl in fused glass.
For more info, click on the links below.
Zonta's Auction Has Something for Everyone
Final Days for Zonta Online Auction